Latest Sustainability Report
The report covers important topics for GUESS: Operating with Integrity, Empowering Our People, and Protecting the Environment. In the last two years, GUESS has accomplished the following:
• Increased globally our GUESS ECO denim offerings by 18%
• Achieved gender pay parity at our U.S. Headquarters and Retail operations
•Set ambitious goals to cut our greenhouse gas emissions by 50% and supply chain emissions by 30% by 2030
•Completed a rigorous review of sustainability data by third-party assurance provider KPMG

Rooted in our heritage but fueled by a new energy 
We're creating iconic GUESS fashion with a focus on sustainability — made by a family of empowered people, with minimal waste.
Upholding the same GUESS DNA: this is our world.
But we are dreaming bigger: this is our future. The values of VISION GUESS support our brand's evolution, our people's livelihoods, and a focused concern towards making a positive impact in and beyond the communities and environments we operate in. Read more about VISION GUESS values below.
Clear About Real Change
We are making real, bold changes in sustainability at GUESS, with a commitment to integrity in how we communicate our progress.
Alive with Diverse and Ideas
We welcome everyone everywhere – diversity makes us GUESS, so we want to ensure every voice, across the globe, has a place in our workforce and our communications
Connected with Our Suppliers
We are everyone in our supply chain – we are all part of GUESS. We work with our global partners on training and supporting best-in-class practices at all levels

Creating With Sustainable Materials
We will continue to use more organic, recycled, and responsibly sourced materials. GUESS is working to ensure that all plastic-based materials are recycled.
Optimizing Fashion with Minimal Waste
We are introducing new product designs and ideas around how we make and sell, to be more sustainable and waste less, reimagining fashion.
Part of The Climate Solution
We take the climate crisis seriosly and have set ambitious targets to reduce carbon emissions at GUESS and in our supply chain.
GUESS ECO products are made with environmentally conscious materials and manufacturing processes. Over 20% of our denim is eco, and we are rapidly increasing within 2024 the 75% of our denim main line will follow GUESS ECO guidelines.
Water Saving
Less water used in the denim wash process during production 30% minimum water savings per denim garment in our collection.
Sustainably Sourced
Materials from responsabily managed farms and forest.
GUESS ECO non-denim products contain 20% – 100% environmentally preferred materials.
Eco-conscious
New technologies and processes reduce use of chemicals.
GUESS ECO denim contains at least 20% environmentally preferred materials and uses production methods with reduced environmental impact.
Greening Our Operations 
At GUESS, we are working to improve our impact on the environment as we continue to build a culture of care throughout the business. As of 2021, we've recognized the following green-minded improvements:
•Over 50+ stores in North America and Europe have been retrofitted or opened with LED lighting systems
•Most packaging transitioning to be recyclable or made of recycled materials
•At our global headquarters in Los Angeles, we offer complimentary electric vehicle charging stations for associates, Rideshare and public transports global incentives.
Clear About Real Change
Our progress since our first sustainability plan launched in 2018 is detailed in our 2020-2021 Sustainability Report VISION GUESS.
We proudly stand by the results presented in the report as they were verified using third-party reasonable assurance, making us the first in fashion to scrutinize our sustainability reporting at such a high level.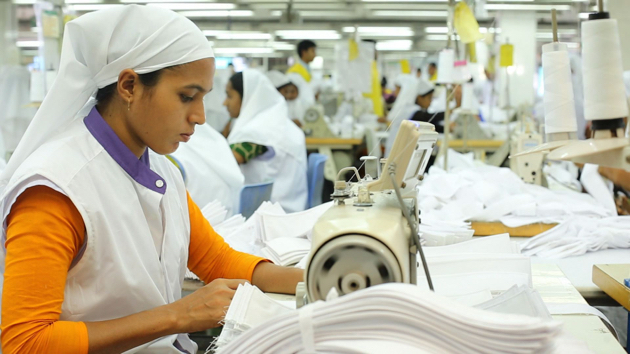 Corporate Social Responsibility
We believe that a collaborative approach to addressing systemic social challenges within the industry will produce more sustainable solutions.
Working with supplier partners to ensure international standards for human and labor rights are upheld, GUESS coordinates oversight and remediation efforts, and has developed supplier training and a program for worker empowerment.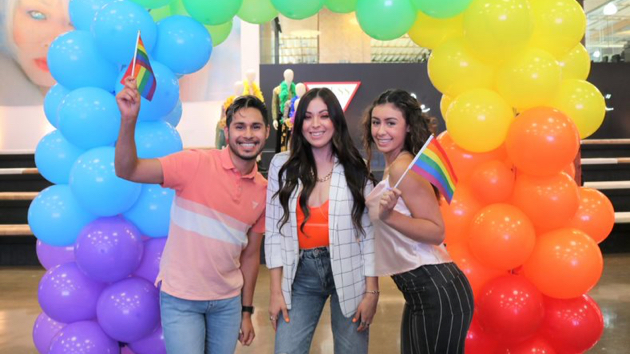 Diversity and Inclusion Council
Our aim is for all GUESS associates to feel comfortable and safe bringing their authentic selves to work and contributing fully to our shared success.
To exemplify this belief as a priority, we've added diversity and inclusion to annual performance review, with plans to redevelop our Diversity and Inclusion Council in Europe in 2022; and continue to engage all associates in the celebration of our diverse organization.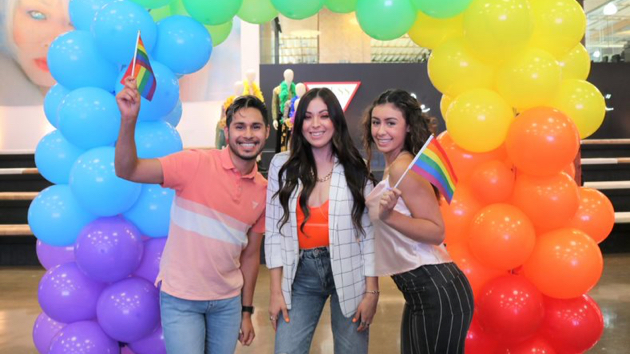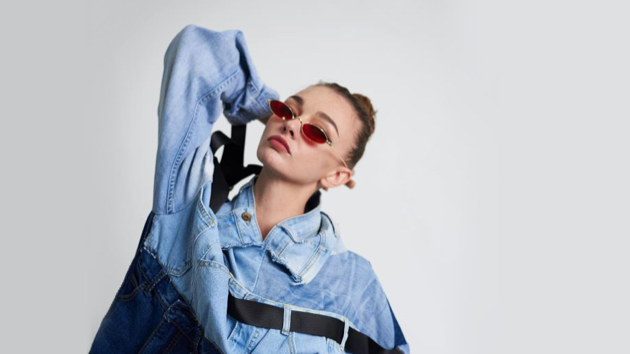 Committed to the Future of Eco-Fashion
As more sustainable fabrics and processing technologies emerge, we evaluate them for potential use by our suppliers. We also assesses emerging approaches to make sure the fibers or fabrics they produce align with the well known GUESS brand and our customers' high expectation for fit and fashion. In general, we are selective about the sustainable product initiatives we pursue so that we can embrace each one fully, apply it correctly, and include many partners to achieve the best result in our finished products.
Treedom
Guess has established a partnership with Treedom aimed to encourage biodiversity and fight climate change. The initiative entails the possibility to choose a tree from seventeen different species, which will be later planted to lower our global impact. This project is just a starting point to educate our consumers to be active sustainability advocates with the well-being of the planet at heart.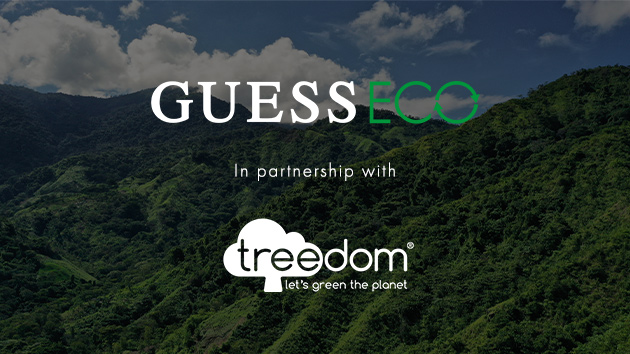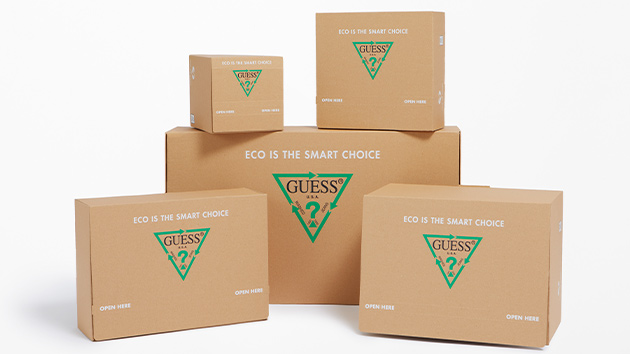 More Sustainable Packaging
We are constantly seeking for innovative packaging solutions using more recycled raw materials, with the purpose of reducing packaging waste. Following this direction, we introduced the Avana boxes: FSC RECYCLED certified, produced with recycled paper and, therefore, recyclable again by PCR.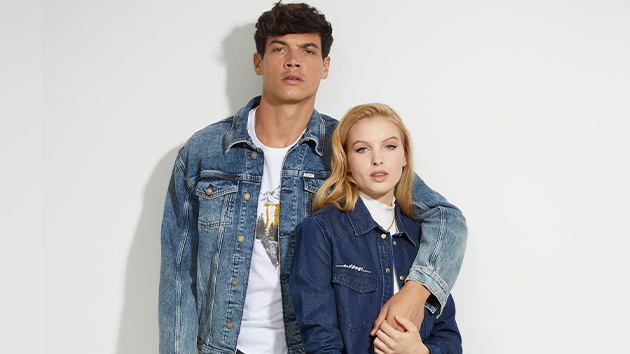 Gender Equality
Our aim is for all the GUESS associates to feel comfortable and safe bringing their authentic selves. For this reason, we always want to guarantee equal opportunities and gender equality among all the employees.
According to Égalité Index homme/femme Report on gender equality, in just one year (from 2019 to 2020) Guess' has improved in France by 10%, reaching respectively 90% rate in 2018, 84% in 2019 and 94% in 2020.
This index is calculated based on gender pay gap, promotion gaps between men and women, parity among the 10 highest salaries and percentage of women having benefited from an increase in the year following their return from maternity leave.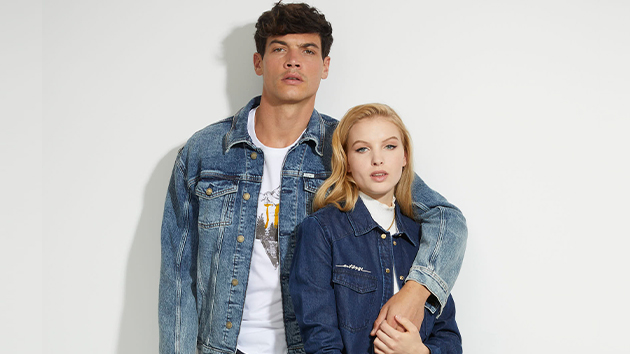 | | Computablewp indicator(1=yes, 0=no) | Indicator value | Obtained Points | Maximum number of indicator points | Maximum number of points for the calculable indicators |
| --- | --- | --- | --- | --- | --- |
| 1 - pay gap (in %) | 1 | 1.2 | 38 | 40 | 40 |
| 2 - differences in individual salary increases (in percentage points) | 1 | 0.1 | 20 | 20 | 20 |
| 3 - promotion gaps (in percentage points) | 1 | 0.3 | 15 | 15 | 15 |
| 4 - percentage of salary increase on return from maternity leave (%) | 1 | 100 | 15 | 15 | 15 |
| 5 - number of employees of the under-represented sex among the 10 highest salaries | 1 | 2 | 5 | 10 | 10 |
| Total of calculable indicators | | | 93 | 100 | 100 |
| INDEX (out of 100 points) | | | 94 | | 100 |
Community Partners
While we recognize it is our corporate responsibility to achieve the sustainability targets we set for ourselves, it wouldn't be possible to do it alone. We are proud to partner with the following organizations, each paving the way for a more sustainable and community-based future:
GRI Community, Sustainability Accounting Standards Board (SASB), Sustainable Apparel Coalition (SAC), Better Cotton Initiative (BCI) , Global Fashion Agenda, The Jeans Redesign, CDP, Science Based Targets Initiative, UNFCCC Fashion Industry Charter for Climate Action, Good360, Fashion Institute of Design and Merchandising, Inno Community Development Organization, Homeboy Industries, Textile Exchange, and The World Stage.